Dawn Smith
Serving Florida

Reverse Mortgage Specialist
There are many government programs in existence today to help Seniors who are experiencing financial difficulties. On a daily basis, our government is making new legislation and revising legislation, in an effort to keep Seniors in a balanced financial situation.

The last thing that the United States needs are homeless, penniless seniors.
Serving Florida
Dawn Smith, Mortgage Loan Originator, NMLS #304629 Pioneer Mortgage Funding, NMLS 1980
---
New Government Programs Designed to Help Seniors With:
• Home Repairs/Additions
• Extra Retirement income
• Lower House Payments
• Help Family Members
• Take a Deserved Vacation
Unused Line of Credit grows larger each year
---
FAQ
1. What is a reverse mortgage?

A reverse mortgage is a loan on a portion of your home's value, where the bank pays you, supplying you with a source of retirement income and allowing you to keep your home. The loan is repaid when you sell your property, move, or pass away.

2. Why do people choose reverse mortgages?

With a reverse mortgage, you get to keep your home and get money for retirement with no monthly payments to the lender. There are no income or credit requirements to qualify, and you can receive your funds in a lump sum amount, as a monthly cash advance, as a credit line, or any combination of the three.

3. How do I qualify for a reverse mortgage?

Unlike a home refinance or an equity credit line, there are no credit or income requirements with a reverse mortgage. You may even be eligible for a reverse mortgage if you still owe money on a first or second mortgage. All homeowners listed on the title must be at least 62 to be eligible. Talk to us if someone under 62 is on the title.

4. How much money can I get from a reverse mortgage?

The amount you can receive is based upon the appraised property value, your age, and the type of loan you select. To explore how much cash could be available to you, try our reverse mortgage calculator.

5. Does the bank take my house when I get a reverse mortgage?

No, the lender does not own your home when you have a reverse mortgage. You continue to own and hold title to your home with a reverse mortgage.

6. Do I have any additional responsibilities with a reverse mortgage?

While you have a reverse mortgage you are responsible for basic home care. This includes:
• Living in the home as your primary residence
• Making necessary home repairs
• Maintaining your homeowners insurance
• Paying your property taxes

7. Are there different kinds of reverse mortgages?

Yes, there are several different kinds of reverse mortgages that include features such as federal insurance and fixed or adjustable interest rates. For more information on how to compare your options, call us. We can help you customize a solution that is right for you.

8. What kinds of fees are associated with reverse mortgages?

Reverse mortgage fees are similar to a traditional mortgage, and they include origination fees, appraisal fees, closing costs, and other charges. They can be financed as part of your reverse mortgage.

9. Are reverse mortgages more expensive than regular mortgages?

Reverse mortgages are generally more expensive than regular mortgages because the interest rates can be higher. One of the primary factors for the higher interest rates is that the borrower makes no monthly payments until the loan is due. With a reverse mortgage, you will never owe the lender more than the value of your home, a protection guaranteed by the federal government.

10. When do I need to pay back a reverse mortgage?

You make no monthly payments while you are receiving income from the reverse mortgage. The loan can be repaid without penalty at any time, but becomes due and payable when you sell the home, move, or pass away. The reverse mortgage will also become due if you do not meet your responsibility to live in the home as your primary residence, make necessary home repairs, pay homeowner's insurance, and property taxes.

11.What happens when I pass my home to my heirs?

Your heirs may choose to keep the home by converting the loan balance into a traditional mortgage or sell the home to repay the balance of the loan. Usually, at least six months are allowed before your heirs must make a decision about what they would like to do with the house.

12. Does a home in a living trust qualify for a reverse mortgage?

Usually, a home in a living trust will qualify for a reverse mortgage. We can help review the certificate of trust with you to determine the eligibility.

13. Is there any tax liability for the proceeds of a reverse mortgage?

Generally, money received from a reverse mortgage is categorized as a loan advance and not taxable income. Your circumstances could vary, and we suggest you speak with a trusted tax advisor for more information.

14. How does a reverse mortgage affect Social Security, Medicare, or pension benefits?

Reverse mortgages generally do not affect these benefits, however programs do vary from state to state, so you should consult your financial advisor or local senior agency for more information.

15. Will a reverse mortgage affect the future sale of my property?

No, a reverse mortgage will not affect the future sale of your property.

16. What kinds of properties qualify for a reverse mortgage?

Single family homes and many other properties may qualify for a reverse mortgage, including manufactured homes built after June 15, 1976, and FHA-approved multi-unit condos.

17. Can I use a reverse mortgage to buy a new home?

Instead of buying a new home and then taking out a reverse mortgage separately, you may purchase a new home and receive additional loan funds all in one transaction with a reverse mortgage for purchase. A reverse mortgage for purchase saves money on fees and closing costs.

18. Can I refinance a reverse mortgage?

Yes, a reverse mortgage can be refinanced.

19. Is it required that I receive counseling before getting a reverse mortgage?

Yes, with a federally insured Home Equity Conversion Mortgage (HECM) and some proprietary loans, meeting with a HUD-approved counselor is a requirement. The counseling meeting is designed for your protection and ensures that a reverse mortgage is right for you. Golden Gateway Financial provides you with a preparation session before and after the counseling session, so that you will know what to expect.

20. Why is a Mortgage Insurance Premium collected?

With a federally insured reverse mortgage (HECM), a mortgage insurance premium is collected, so that if your loan balance exceeds the current market value of your house, you will continue to receive your reverse mortgage funds and never owe more than the value of your home. This includes situations where you outlive the term of the loan, the home value depreciates, or the lender is no longer able to make payments to you.
---
You May Qualify
If you're 62 or older – and looking for money to finance a home improvement, pay off your current mortgage, supplement your retirement income, or pay for healthcare expenses – you may be considering a reverse mortgage. Reverse Mortgages allows you to convert part of the equity in your home into cash without having to sell your home or pay additional monthly bills.
---
Types of Reverse Mortgages
Federally-insured reverse mortgages: known as Home Equity Conversion Mortgages (HECMs) and backed by the U. S. Department of Housing and Urban Development (HUD).
HECM Savers:  Same as regular reverse mortgage except you do not have to pay the mortgage insurance premium and you are eligible to cash-out less percentage of equity.

Proprietary reverse mortgages: private loans that are backed by the companies that develop them.
Single-purpose reverse mortgages: offered by some state and local government agencies and nonprofit organizations.
Jumbos are back!!!: offered by some private lenders for the properties valued in excess of the $625,500 limit.
---
How To Apply For A Reverse Mortgage
Call Dawn Smith at 591-1300 to make an appointment
Bring the following - if applicable - to your appointment
(I will make copies and return your documents to you)

1.  Picture ID or Driver's License

2.  Soc Sec Card or Medicare Card

3.  Homeowner's Insurance Certificate

4.  If residence in Trust - copy of Trust, if any

5.  Recent mortgage statement, if any

6.  Info on any liens or judgments on property, if any
7.  Copy of recent utility bill addressed to residence
8.  Copy of bank statement verifying income

We will fill out and sign the required Authorization and HUD 1009 forms
and I will help you arrange for your Reverse Mortgage Counseling Certificate

Counseling Certificate:
1)    Consumer Credit Management Services Florida (866) 213-8522
2)    Consumer Credit Counseling Service of Montana (877) 275-2227
3)    Greenpath Arizona (888) 776-6735
4)    NCOA 1-800-510-0301
5)    AARP Reverse Mortgage Education Project 1-800-209-8085
6)    Money Management (866) 664-6866

Tell the credit counselor that Pioneer Mortgage Funding is your broker and to fax a copy of the certificate to Dawn Smith at 877 808-8331.
---
Reverse Mortgage Step By Step Processing
Talk with me!  Contact Dawn Smith at MortgageHawaiiLLC@gmail.com now to find out if a reverse mortgage is right for you and if you qualify.
We'll help you fill out the application At this time, we'll work together to help you choose the best type of reverse mortgage for your needs and determine how you'd like to receive the money from your new reverse mortgage - a line of credit, lump sum, monthly payments or a combination of those. Don't forget to consult your financial advisor.
Counseling is required Because reverse mortgages are a big step for any homeowner, HUD (Department of Housing and Urban Development) requires that all applicants receive third-party counseling to explain all the available options and details. We'll provide a list of counselors for you to contact. The average counseling fee is $75-$125. Price will vary by office and location.  If you have very low income (usually $1,000/mo) some places will counsel you at no cost.
Appraisal and Inspection An appraisal will need to be completed on your home in order to determine the market value, make sure it fits within government guidelines, and check for any repairs needed to the home. You might need a structural inspection as well. A fee will be assessed to cover the appraiser's costs. Currently the appraisal is charged to your loan as a closing cost. If you apply for an appraisal, and then decide not to move forward with the loan and the appraisal has not yet been completed, not owe any appraisal fee. If however, an appraisal was completed on your property, you may still owe the appraiser for his/her services.
Underwriting After we get all the documents we need from you, we'll work behind the scenes and finalize all the details of the loan.
Closing We'll set everything up with all the final documents to sign. We couldn't make closing any easier!
Disbursement As with all home loans, the right of rescission period takes three business days. Any debts you'd like included are paid and you can feel secure knowing you'll never have to make a mortgage payment again.
Repayment For the life of the loan, you do not ever make monthly mortgage payments to your lender. Reverse mortgages become due when the borrower(s) no longer occupies the home. If death of the borrower occurs, the heirs/estate may repay the loan from the sale of the home or refinance the home. It's really that easy!
---
Serving Florida
Based in North Fort Myers, Florida and serving Lee County, Naples, Sarasota, Tampa, Miami, Fort Lauderdale, Jacksonville, Tallahassee, Orlando, Cape Coral, Collier County, Hillsborough County, Dade County, Palm Beach County, Marion County and Polk County.

Dawn Smith, Mortgage Loan Originator, NMLS #304629,   Pioneer Mortgage Funding, NMLS #1980
---
What's New?
Major changes implemented:

•     Clients must be in receipt of HECM information package prior to their counseling session.
•     Counselors must assess a client's understanding of the reverse mortgage using questions.
•     Counselors must use FIT tool for all clients and Benefits Checkup for those under the 200% poverty level.

Required Handouts for Clients
HUD requires that clients receive a standard information packet prior to completing their counseling session. Except for emergency counseling, clients must receive this packet prior to conducting the counseling session, and must have had sufficient time to read the materials before the counseling session. If emergency counseling is conducted face-to-face, the counselor must give the packet to the client at the session. If conducted by phone, the packet may be emailed, faxed or mailed.

Sending this package by mail will require that we set the counseling date at least a minimum of 5 days from the date of the client intake information. Time is needed for the client to receive the package and to review the information. If an email address, or fax number for the client is available, the package can be electronically sent to the client.  In this case the counseling would be able to be completed in 3 days.

The packet contains the following documents:

•       HUD's Preparing for Your Counseling Session
•       Loan printout showing TALC
•       Loan printout amortization schedule
•       Loan comparison printout
•       National Coalition on Aging's Booklet, Use Your Home to Stay at     Home - A Guide for Homeowners Who Need Help Now

Reviewing the Client's Level of Understanding
To review a client's understanding of reverse mortgages, counselors must ask 10 questions interspersed throughout the session. The questions, selected must be relevant to the client's situation. The counselor must withhold the certificate if the client cannot answer 5 of the 10 questions correctly in the first session. Additionally the counselor must note in the client file that the certificate was withheld and the reason why it was withheld.
When the certificate is withheld in the first counseling session, the counselor must provide several alternatives to the client, including scheduling another appointment at another time, using a different delivery method (face to face vs telephone), including a family member, friend or trusted adviser. 
Counselors must complete BenefitsCheckUp for all borrowers whose income falls below 200 percent of the Federal Poverty Level (FPL) or who are disabled. Counselors are required to offer BenefitsCheckUp to all clients however a client who does not fall in one of the previous two categories may decline it.
I'm currently checking with HUD to find out if it is acceptable for the loan originator to send the client the package.
---
Free No-Obligation-Consultation - Know Your Options
Get all the facts and know your options. Call Dawn Smith for a FREE phone or in-person consultation to discuss your options. 808-591-1300.
---
About Dawn Smith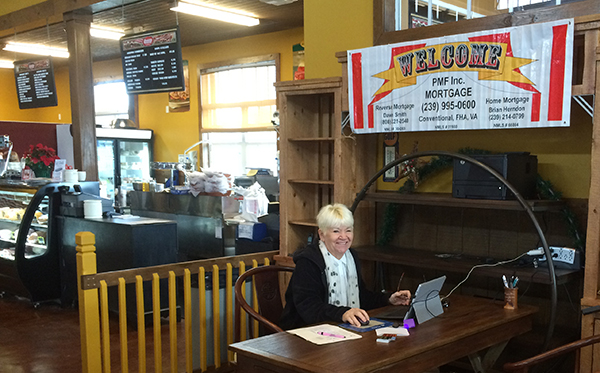 Dawn Smith is a retired attorney who is specialized in assisting other Seniors, like herself, maximize their retirement income and minimize their retirement expenses.

Located in North Fort Myers and serving all of Florida.
---
Contact
For a consultation please call Dawn at
239-995-0060
808-221-2540

email snowbirdstation@gmail.com



Snowbird Station
1001 Palm Ave.
North Fort Myers, FL 33903

Located in Snowbird Station


---
as seen on WINK TV
---